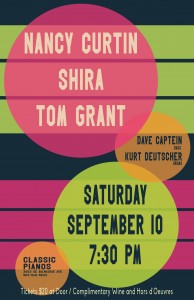 Saturday, September 10, 7:30 pm ~ Classic Pianos Concert with my fabulous song-sister, Shira, and Portland legend, Tom Grant. Shira sings the standards like no one else (unless you want to compare her to Ella Fitzgerald). My contribution is those sizzling songs from Brazil. We sing a few songs together and the harmonies flow!  The incomparable Tom Grant swings on both American and Brazilian tunes, and he's accompanied by two more fantastic musicians, Dave Captein (bass) and Kurt Deutscher (drums). There won't be online ticket sales but you can reserve seats by calling Peggie at Classic Pianos (503-546-5622) or you can email her at peggie@classicportland.com. Seating is limited so make your reservation soon! Complimentary wine and hors oeuvres! $20 at the door.  
Sunday, September 25, 11:30 am-2:30 pm ~ Jo Bar Latin Jazz Brunch ~ Another fun gig at this hip NW restaurant. Not only do they have wonderful food and drinks but they're devoted to jazz. Featuring Vince Frates (piano) and Dave Captein (bass).  No cover.
March 9 and 10, 2017 ~ Concerts with guitarist Alfredo Muro in San Miguel de Allende, Mexico! More details to follow.
Venues Played

Art in the Pearl Festival
Portland Jazz Festival
Jimmy Mak's
Arlene Schnitzer Concert Hall
Aladdin Theater
Arrivederci Wine
Wilf's Restaurant
The Heathman Hotel
Tony Starlight's
The Bite (Portland
Bumbershoot (Seattle)
Old Church Jazz Concerts
Andina Restaurant
The Allison Hotel
The Town Club
Duck Pond Cellars
Persimmon Country Club
Oregon Zoo Concerts
The Marriott Hotel
Pistol River Concert Series
The Riverplace Hotel
Multnomah Athletic Club
Jazz at Cannon Beach
Museum After Hours (Portland Art Museum)
Oswego Lake House
Jazz at Joe's (Bend)
Blue Heron Concert Series (Vashon Island, WA)
Hewlett Packard Employee Dinner
The Benson Hotel
503 Restaurant
Portland State University
University Club, Portland